Obituary for Bernal "Bob" Arthur Jones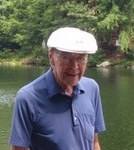 On Saturday, November 15, 2015, Bob passed away peacefully, surrounded by his family at his home in Elora in his 94th year.

Beloved husband to the late Frances who passed away in 2001. Loving father to Allen Jones (Carolyn Trommelen, Bruce Jones (Louise McCann), Jodi Murray (Lee Murray), Bronwyn (Jones) Norris and Jason Jones. Proud grandpa to Jennifer, Tressa, Katherine, Sara, Ruthie, Bruce, Brett, Tyler Giesel, Roman, Conrad, Justin and Corey. Dear brother to Marylen Barnes and Elinor Brown.

Predeceased by his brother Allen and by his parents.

Bob was a veteran of World War II. He fought in Holland and Germany with the 13th Field Artillery Regiment 3rd Division. Before he retired he was President and Owner of the Metropolitan Pump Company Limited in Waterloo. Later in life he was honoured with a lifetime membership in the Elora Lions Club.

Friends are invited to share their memories of Bob with his family during visitation at the Graham A. Giddy Funeral Home, 37 Church St., Elora on Wednesday, November 18, 2015 from 5-8 p.m. A Celebration of Bob's life will take place at St. John the Evangelist Anglican Church, 36 Henderson St., Elora on Thursday, November 19, 2015 at 12:00 p.m. The interment will take place prior to the service at 11:00 a.m. at the Elora Cemetery. If you wish to attend the committal portion of the service the family welcomes you.

Memorial donations can be directed to the Canadian Cancer Society or St. John the Evangelist Anglican Church at www.grahamgiddyfh.com or 519.843.3100.

The family are grateful for the support of the CCAC, Groves Memorial Emergency Department and the staff of the Fergus/Elora Medical Group. With their support, Bob was able to fulfil his desire to continue living at home.

Order Flowers